LASIK
Understanding LASIK
Increase Your Eye-Q
Not all LASIK surgeons are equal; selecting the right one for you will affect the quality of your vision results. Understanding the importance of experience, skill and technology is valuable as you evaluate your options.
To assist your decision, Dr. Colby Stewart has provided easy-to-follow information to help you gain a better understanding of how LASIK works and what makes Tennessee Lasik one of Knoxville's premeir LASIK specialists.
All you need is 5-10 minutes. After you become an 'expert', you may be ready to schedule your FREE, no-obligation LASIK screening with our team online.
How does LASIK work?
LASIK is an outpatient surgical procedure that uses high-accuracy pulses of light to reshape the surface of the cornea (the lens on the front of the eye). The ultimate goal of LASIK is to help patients enjoy the comfort and freedom of clear vision without the use of glasses or contacts.
LASIK can correct most common eye conditions: nearsightedness, farsightedness and astigmatism – allowing a majority of patients to achieve 20/20 vision or better.
Before LASIK
Nearsighted
Light focuses beyond the retina, making vision blurry.
Farsighted
Light focuses before the retina, making vision blurry.
Astigmatism
Light focuses irregularly across the retina, making vision blurry.
After LASIK
Nearsighted
The corena is reshapen to allow light to focus on the surface of the retina, making vision sharp.
Farsighted
The corena is reshapen to allow light to focus on the surface of the retina, making vision sharp.
Astigmatism
The corena is reshapen to allow light to focus on the surface of the retina, making vision sharp.
Can I have LASIK?
Not everyone can be a candidate for LASIK. Certain eye, health and lifestyle conditions may disqualify some candidates from the procedure. For a preliminary test of your LASIK candidacy, complete our brief LASIK QUALIFICATION CHECKLIST
Are your eyes healthy?
i.e. no conditions such as cataracts, glaucoma, etc.
Your eyes must be healthy. If you have any condition that will affect how your eyes respond to surgery or the healing process, you must wait until that condition has totally healed. Conditions, such as cataracts and glaucoma may disqualify you immediately.
Are you over 18 years of age?
You must be an adult – 18 years or older to qualify.
Has your prescription changed in the last year?
You must have stable vision for at least one year. Many young adults experience changes in their prescriptions, and should wait until their eyes have "settled" into one prescription.
Are you pregnant or nursing?
If you are pregnant or nursing, certain hormonal changes will affect your eyes. Surgery should not be performed until your hormones have "normalized" after pregnancy.
Do you have any degenerative or autoimmune diseases?
Degenerative or autoimmune diseases are disqualifiers, too. If your body has any trouble healing, this will negatively affect the outcome of refractive surgery.
How much does LASIK cost?
The industry average cost of LASIK is varied.
Advertised prices can range from $600 per eye to $3500 per eye.
On the low end are 'bait-and-switch' gimmicks designed to lure patients into calling with the intention of up-selling to a higher priced option. On the high end are surgeons that price services as a premium for 'celebrity' status or to reassure patients they are paying for the 'best'.
Tennessee Lasik provides services at a cost that allows us to offer the industry's best equipment and to spend the time necessary to ensure predictable results.
To help those that want the best results possible but need financial assistance, we offer 2-year, interest-free financing for qualified applicants. Monthly payments are as low as $150 per month.
Does LASIK hurt?
One of the first questions many people ask is if LASIK is painful. You will be pleased to know:
During surgery, most patients only feel slight pressure while some patients even report not feeling a thing.
Valium will help calm your nerves.
Following LASIK surgery, many patients experience mild irritation for a several hours. Dr. Stewart's skill combined with the quality of our advanced lasers help ensure a nearly painless experience and fast recovery time.
Are there potential risks involved with LASIK?
Dr. Stewart has a reputation for safety and predictable results that is among the best in his field. In fact, he has never produced an infection in over 20,000 LASIK procedures. Despite this stellar track record, you should understand that LASIK – like any surgery – has potential risks. Some of these risks can occur before, during and after surgery. While most complications can be corrected or treated, some issues can be more problematic.
In less than .03% of the cases, a cornea flap complication can occur during surgical preparation. This could be a free cap, a torn cap or a button-hole in the cornea. These types of intraoperative complications are extremely rare, but on occasion, can happen. Usually, the surgery is cancelled, the cornea is allowed to heal for 3 to 6 months, and LASIK can be done at a later date.
Postoperative infections are extremely rare but can occur. The use of antibiotic drops after surgery, greatly reduces the risk of infection.
Other potential risks include severe dry eye syndrome, various visual issues (halos, glare, starburst, double vision and loss of sight) and the continued need for glasses or contact lenses after the surgery.
Potential Need for Enhancements
The need for an enhancement is a possibility. The national average for patients requiring enhancements after surgery is about 8-10%. If you are extremely nearsighted, farsighted, or astigmatic, your chance for an enhancement is higher than the average patient.
Farsighted patients have the tendency to regress more than nearsighted patients. Planning for this regression, Dr. Stewart uses 20 years of experience to carefully 'overcorrect' farsighted patients during surgery by 20%. This means that a farsighted patient will initially be nearsighted right after surgery. These patients' distance vision will continue to improve and perfect over a two to three week period. 
What results can I expect?
Vision results vary greatly depending on the skill and experience of your surgeon and the quality of their equipment.
Over 94% of Dr. Stewart's patients experience prescription results of 20/20 ('perfect' vision).
Many patients even experience 20/15 (better than 20/20).
Certain unique eye conditions may not be conducive to these results; however, these patients may be able to drive without glasses or may only need them for certain activities after LASIK.
Dr. Colby Stewart is proud of a 20-year track record of producing vision correction results and post-surgical eye health that places him in an elite group of surgeons throughout the nation.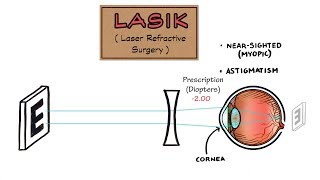 This easy-to-follow illustrated video discusses the causes of blurry vision, how LASIK corrects most vision issues, and a step-by-step walk through of what to expect from your LASIK experience with Dr. Stewart.
LASIK
Our LASIK Technology
Invested In Your Vision
Dr. Colby Stewart has always invested in the industry's leading LASIK technology for his patients. Dr. Stewart's commitment to find ways to provide better results drives him to constantly compare the latest refractive surgery technology on the market. Our most recent investment in the Wavelight® EX500 Excimer Laser helps minimize problems associated with older generation lasers, such as night vision reduction, glare, and halos.
Dr. Stewart is excited to announce our recent investment of this amazing technology. As the first LASIK center in the area to invest in this technology, we hope you are as excited about the vision results it will produce for you.
Read more about the Wavelight EX500 below.
WaveLight
WaveLight EX500 Excimer Laser
Built for superior speed and accuracy
The EX500 takes proven Allegretto Wave technology to the next level of laser vision correction. The Allegretto Wave Eye-Q Laser System is designed to work in tandem with a wide range of surgical and diagnostic tools from the WaveLight line of products to provide superior accuracy and reliability.
High-speed, IR, video-based, active Eye Tracker

1050Hz
Ultrafast 2.0ms latency

Integrated online pachymeter
Motorized, progressive-zoom microscope with heads-up display
Featuring a 1050 Hz repetition rate, the WaveLight EX500 Excimer Laser delivers one of the world's fastest ablation times at only 1.9 seconds per diopter (at 6.5mm optical zone), resulting in consistent outcomes.
500 Hz flying spot
0.95mm gaussian beam
~1.9sec/diopter (at 6.5mm optical zone)
WaveLight FS200 Femtosecond Laser
Faster flap creation
Featuring the world's fastest flap creation times, the 200 kHz WaveLight FS200 Femtosecond Laser delivers precise, predictable outcomes:
Standard flap creation in approximately 6.0 seconds
Automated vacuum control of the patient interface for consistent suction
Minimized IOP and ocular distortion during suction
Fast visual regeneration
PerfectPulse Technology
The PerfectPulse System is comprised of three parts to optimise overall outcomes: Active Fast-Track Eye Tracker, gaussian beam laser, and high pulse frequency.
Active Fast-Track Eye Tracker
The video-based tracker can follow even the fastest eye movements and adjust in less than 6ms, re-aligning more than 400 times a second. It tracks movements in the pupil within 1.8mm to 8mm and then automatically centers to ensure perfectly aligned ablations. A closed-loop tracking system reconfirms the eye's alignment again before each pulse is placed on the cornea so that every pulse goes to the desired location. Three infrared light sources are used to monitor the patient's eye. If the eye moves too far the tracker turns the laser off until it becomes re-centered before the laser picks up where it left off.
Gaussian Laser Beam
As opposed to flat top beam lasers that leave a rough, notched surface on the cornea, the gaussian beam is an ultra fine laser with a beam size of only 0.95mm to smoothly reshape the cornea with a smooth, curved profile. By maintaining the eye's natural shape, night-vision disturbances, glare, and halos are dramatically reduced or eliminated. 
High Pulse Frequency
By operating at high speed of 1050 pulses per second with short bursts and combining with an ultra-thin beam the Wavelight EX500 Excimer Laser can sculpt corneal surface with the utmost precision. The Wavelight EX500 is up to 200 times faster than other lasers, leading to much shorter procedure times and optimal post surgery results.
Improved Vision Results
The Value of Speed 
Stromal dehydration is a condition during laser eye surgery after the superficial flap has been created and opened and the water between the collagen fibers in the cornea begin to evaporate from the exposed tissue.  As the stroma becomes relatively dehydrated it gains a greater collagen fiber density so each laser pulse removes slightly more collagen tissue per pulse than it would if it was fully hydrated. Although the effects are minor final results may become affected.  The faster the surgery, the less stromal dehydration takes place, the better the results. The Wavelight EX500 is one of the worlds fastest with a speed of only 1.9 seconds per diopter.
Post-op Outcome
Overall, the final outcome with the WaveLight® EX500 Excimer Laser and the WaveLight FS200 Femtosecond Laser result in a reduced risk of post-LASIK complications and superior results.
Greatly improving chance of:
Achieving 20/20 vision
Achieving better than 20/20 vision
Reducing chance of:
Losing best-corrected vision
Losing visual quality
Losing contrast sensitivity
Night-vision disturbances
Glare
Halos
The possibility may also exist for custom LASIK to treat people who have previously lost best-corrected vision from any past refractive surgery.
Next Steps
Now that you know a little more, the next step is to meet the Tennessee Lasik team and find out if you are a good candidate for LASIK vision correction surgery.
First Things First
Since your screening is free, you have nothing to lose. Scheduling online is easy or you can call our office at 865-966-9182 to speak directly to a member of our team. During your screening, we will determine if you are a candidate for LASIK, discuss your treatment and payment options and schedule your surgery.
Easy Does It
Once your big day arrives, LASIK involves a little valium, a 20-minute outpatient procedure and 1 day of rest. 
Back To Work
With immediate vision improvement, you may return to work the next day and resume most other activities within a few days!
Follow up
To keep your eyes healthy and your vision sharp, we schedule day-after, 1-month and 1-year follow up visits.